2021 was a big year for Esports News UK, with editor Dom Sacco running the site full time and with the help of Megalodontus, more interviews were posted on the site than ever before.
Here are some of our memorable interviews from last year, in no particular order.
Interview with Valorant broadcast talents Yinsu Collins and MitchMan before the VCT Stage 2 Masters (May 2021)
Valorant came to the fore in 2021 – and a lot of talent with it.
Megalodontus spoke to two of Valorant's top broadcasters, UK host Yinsu Collins and Irish caster / analyst Mitch 'MitchMan' McBride, about the VCT to date, their predictions for the Masters event and their thoughts on Valorant's first year.
Interview with EU League of Legends stars Noa and Carmeline about women in esports (May 2021)
March was the month of women's history, and the esports industry took the opportunity to celebrate the many talented and often overlooked personalities in the field.
There aren't many women in the League of Legends' European Regional Leagues (LoL ERLs). Ainhoa ​​'Noa' Campos (left picture) and Carmen 'Carmeline' Junquera (right) are two such personalities, with Noa occupying the Spanish LVP SuperLiga and Carmeline the Baltic Masters (and the NUEL Women's University tournament). Megalodontus asks her about her experiences.
MSI & VCT Masters interview with Ásbjörn Ásbjörnsson from the Icelandic Esports Association (April 2021)
The League of Legends Mid-Season Invitational (MSI) and Valorant Championship Tour (VCT) Masters Stage 2 took place in Iceland's capital Reykjavík in May.
Megalodontus spoke to Icelandic Esports Association (IEA) board member Ásbjörn Ásbjörnsson, who is also the founder and CEO of the NLC team Dusty. He spoke about the importance of choosing Iceland, some of the challenges it presents, and even nutritional advice for visiting teams and players.
MNM co-founder on Asian representation in eSports: "I think the British Chinese really weren't represented, so it gives me more reasons to decide what to put into the MNM brand." (April 2021)
Kalvin Chung aka Kal, co-founder of the British esports organization MNM Gaming and the creative agency DLC Studios, has called for a stronger Asian representation in esports.
Calvin spoke as part of a career panel organized by the job platform Hitmarker and the university esports organization NUEL, hosted by Alex Swan.
Interview with Fnatic top laner Adam: "I want to go straight to the World Cup this season and show the world that there is a top laner in Europe who can keep up with all the legends in Asia" (August 2021)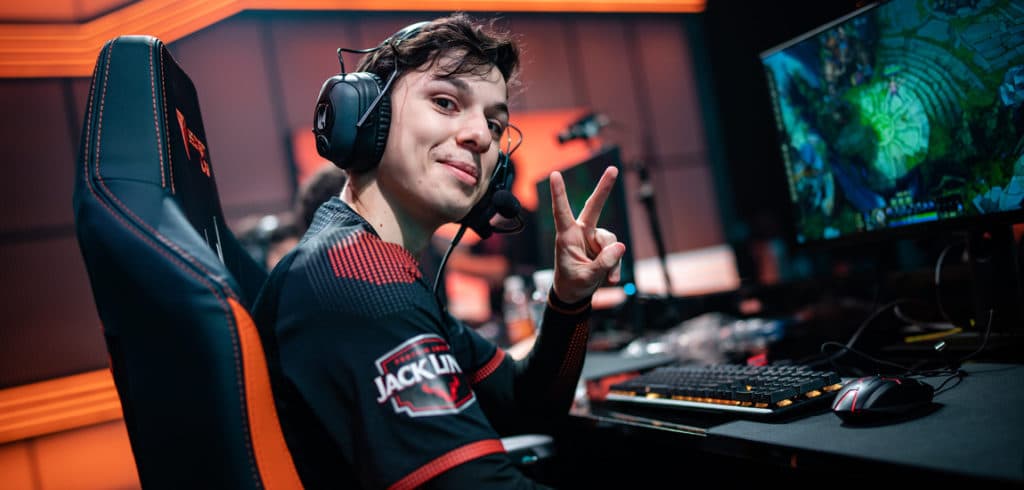 After what was ultimately a disappointing LEC season for Fnatic standards in spring 2021, the team took steps that shocked the fan base of the European League of Legends (LoL): let Star-Jungler self-made, switch Bwipo to jungle and to get a makeover from the European Regional Leagues (ERLs) with Adam 'Adam' Maanane.
While it didn't work out for Adam at Fnatic in the end, he went to the World Cup and put his name on the map in 2021. Now he plans to start over with Team BDS in the LEC in 2022.
In-depth interview with NLC LoL Caster Troubleinc about their trip to the LEC, their unique accent and staying true to themselves – "I'm unfiltered and uncensored, and that's how I will stay" (July 2021)
As one of the few female casters in the European Regional Leagues (ERLs), Georgia 'Troubleinc' Paras, caster for the UK / Nordics NLC and content creator for SK Gaming, has steadily risen to the EU Masters since her beginnings in the Balkan / Greek scene , up to a guest appearance at the LEC, together with other NLC casters.
Still, as a community, we haven't gotten to know Troubleinc that well as a person. Who is Troubleinc? How did she get into sport and what are her goals? Where is your accent coming from? Megalodontus finds out in this interview and profile piece.
Exclusive interview with Craig 'Wizzo' Fletcher on the future of the Insomnia Gaming Festival (June 2021)
Craig 'Wizzo' Fletcher, who was the original founder of Insomnia before selling it to GAME in 2015, now owns a portion of Insomnia after returning last month. He admitted that it could have been closed completely due to the pandemic and that "the itch has always been there" when he comes back with "unfulfilled goals and aspirations" that he wants to fulfill.
Dom Sacco caught up with Wizzo on his return to Insomnia and the future of the gaming festival.
Raven interview: Hearthstone caster and "UK's Best Gamer" about esports runabout who is reported about saying "Shaman" and this rage in the Grandmasters finals (June 2021)
Alexander 'Raven' Baguley is a seasoned British Hearthstone caster. Raven has an eventful history as he played in the old ESL UK & Ireland Hearthstone Premiership and various Insomnias before moving to casting.
Not only that, he has also organized his own events, was named "UK's Best Gamer", witnessed the first runabout in British esports and first met ENUK editor Dom Sacco while playing Vanilla World of Warcraft 15 years ago . The old guild members catch up in this in-depth video interview.
Detailed interview: The British Rainbow Six Siege casts AceOfPyrite, Fluke and Dezachu review the Sweden Major and look ahead to the Six Invitational 2022 (November 2021)
Dom Sacco speaks to a trio of British Rainbow Six Siege casts – AceOfPyrite, Fluke and Dezachu (left to right) – to ask about their key moments and takeaways from the Sweden Major and what to look forward to at the upcoming invitational.
Celebrating Pride Month 2021: Esports personalities from the UK and Ireland share their views on LGBTQIA + issues and their representation in the industry (June 2021)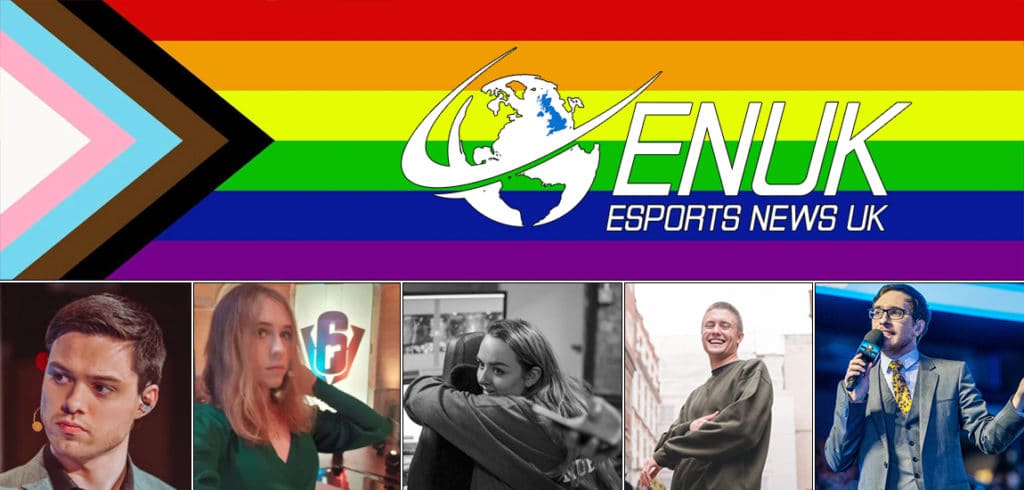 June was Pride Month, and industries around the world celebrated initiatives and individuals to celebrate the occasion, including esports. It's fair to say that companies in the esports and gaming industries, like others, have sometimes shared opinions with the LGBTQIA + community – and the wider community as well.
Megalodontus speaks to five members of the UK and Irish eSports community about their experiences, representing LGBTQIA + and how companies or brands can get better.
Miss Baffy Interview: 'When someone joins my stream and they're sexist, I literally tell them how much they're a fucking idiot!' (September 2021)
One of the UK's most popular League of Legends streamers, Miss Baffy joined UK esports organization LDN UTD in 2021.
She jumped on a Discord call with Esports News UK Editor Dom Sacco to discuss the partnership, reaching 100,000 followers on Twitch and how she became a streamer including her troubled past.
Interview with Larssen von Rogue: "We will make the EU proud at the World Cup" (October 2021)
Rogues Swedish midlaner Emil 'Larssen' Larsson in League of Legends had another solid year in 2021. not to mention his contract with Rogue has been renewed.
But just a few years ago, before Larssen made it onto the big stage, he started his career in the British scene with teams like ManaLight and MNM Gaming. Megalodontus spoke to Larssen about his path so far when he entered the 2021 World Cup to represent Rogue and the LEC. Unfortunately, despite good performances in the LEC, they did not have a great performance at the World Cup. Perhaps 2022 will prove to be more fruitful for them overall.
Check out more Esports News UK interviews and Esports News UK's top-read articles of 2021 here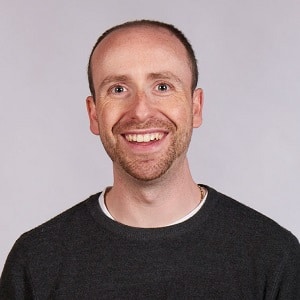 Dom is an award-winning writer who graduated from Bournemouth University in 2007 with a 2: 1 degree in multi-media journalism.
A longtime gamer who first picked up the NES controller in the late 1980s, he has written for a number of publications including GamesTM, Nintendo Official Magazine, industry publication MCV, Riot Games and others. He worked as Head of Content for the British Esports Association until February 2021 before returning full-time to Esports News UK and as an Esports consultant helping brands and companies better understand the industry.