For all its drama, smacking, and screaming on LANs, Counter-Strike is apparently the most comforting esports shooter out there.
That's according to a new study by researchers in human biology and psychology at the University of Leeds that looked at the physiological effects of stress on gaming.
The UK University study commissioned by BetVictor, focused on popular FPS and Battle Royale games like Apex Legends, CSGO, Call of Duty Warzone, and PlayerUnknown's Battlegrounds (PUBG). The study tracked blood pressure and heart rate.
Thirty-two people between the ages of 20 and 26 (with an average age of 23.2) participated and each was identified as either a "good" player or an "expert" in their game of choice. Most of the contestants played one game, but some played two, and everyone was recorded playing the game on at least three occasions.
For adults, a normal resting heart rate is between 60 and 100 beats per minute (beats per minute), but stress can cause your heart rate to increase above 100 beats per minute. In all four titles, there was an increase in heart rate that exceeded 100 beats per minute at least once, with a greater fluctuation in heart rate among participants when they encountered an enemy or challenge.
CSGOs "outstanding results"
CSGO achieved "outstanding results" that differed from those of the other games, with average player heart rates falling from 79.5 bpm to 77 bpm – making it the only game with an average decline.
The researchers involved in the study suspected that this could be due to the duration of the games.
"CS matches usually last between 30 minutes and an hour, while the playing time in other titles was almost half as long as that of CS matches," the report said.
"The longer length of time, as well as the resetting between rounds, means that players are more likely to settle into a natural rhythm and relax more than they would with other games, as opposed to the shorter Battle Royale games which are more unpredictable in a shorter amount of time. "
Another possible reason the researchers involved in the study theorized was that participants who played CS had more experience with the game and consistently felt more relaxed.
The decrease in heart rate of players who play CS, a physiological indicator that the gameplay had a relaxing effect, is consistent with pre-game and post-game questionnaires.
"Small change in blood pressure"
Overall, the maximum recorded heart rates of the participants never exceeded an unhealthy stress heart rate (max. Heart rate 220 – age). The highest recorded heart rate in the study was 140 beats per minute during a game in PUBG (PlayerUnknown's Battlegrounds). While the heart rates were elevated, they were within healthy arousal levels.
Apex Legends had the largest average increase, with the pre-game average BPM increasing from 80.6 to 83.1, but the lowest in-game heart fluctuation possibly due to short games.
"You'd think that given the increased heart rates recorded by our participants, our participants would leave the game stressed and slightly irritated," the report said.
Wrong! The STAI (also known as 'State Anxiety') is a test that measures anxiety at a specific point in time. Here, our players reported feeling stressed before playing and later showed a decrease in anxiety after the game This is in line with other research suggesting that playing video games is viewed as a relaxing activity. As with other findings, Counter-Strike had the greatest impact on participants. "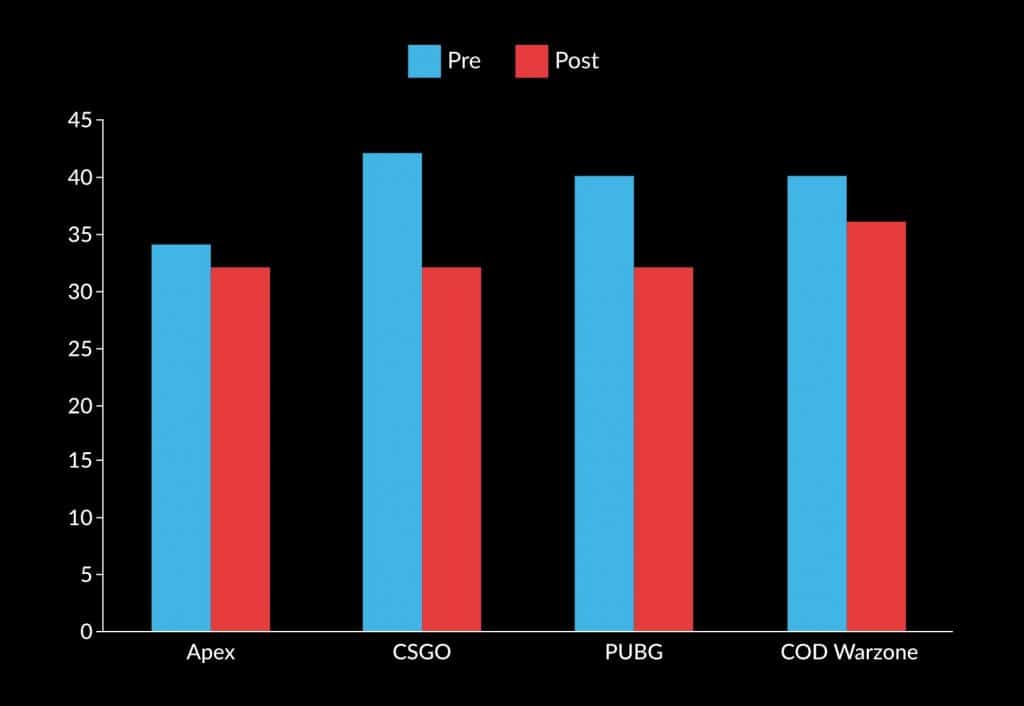 After all, in all games there were very little changes in blood pressure before and after the game. This suggests that participants did not experience any stress from gaming. Likewise, the blood pressure did not decrease. The report found that this may be due to the fact that participants are relatively young and their blood pressure was at an appropriate level when they played the video games, even if they reported feeling stressed on the STAI questionnaire.
Dr. Motor Control and Development reader Andrea Utley commented, "It appears that participants consider playing video games to be a fun activity that reduces their stress levels. Even if the physiological measurements before the game indicate that they are relatively relaxed, they still find playing a good form of stress relief. "
Main results
All participants stated that gaming has a stress-reducing effect
During the game, the participants' heart rate was increased in all games
Higher heart rate fluctuations are related to events in the game, such as B. encountering an enemy
Apex Legends had the highest average increased heart rate but the smallest heart rate fluctuation
Playing Counter-Strike was believed to reduce the physiological effects of stress
It seems the longer you play a game, the more the heart rate fluctuates – this may be due to the intensity of the game
Years of experience playing a game can result in greater stress relief
The blood pressure only fell while playing Apex and that was just the systolic reading
You can view the full Your Body on Esports results, including blood pressure data and videos, here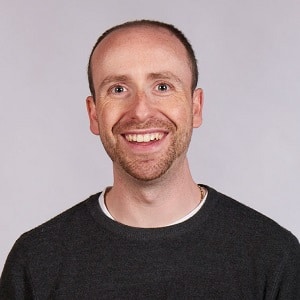 Dom is an award-winning writer who graduated from Bournemouth University in 2007 with a 2: 1 degree in multi-media journalism.
A longtime gamer who first picked up the NES controller in the late 1980s, he has written for a number of publications including GamesTM, Nintendo Official Magazine, industry publication MCV, Riot Games and others. He worked as Head of Content for the British Esports Association until February 2021 before returning to Esports News UK full-time, helping brands and companies better understand the industry as an esports consultant.