Eight of the best CS: GO Teams of the world play at the BLAST Premier World Final, the final S-Tier event of the year, in Copenhagen, Denmark. The tournament will run from Tuesday, December 14 through Sunday, December 19, and will see the eight teams compete for their share of the $ 1 million prize pool.
Natus Vincere has won all Tier 1 competitions for the past few months, including the PGL Stockholm Major in November. The CIS powerhouses are the undisputed best CS: GO Team of the world, but all BLAST Premier World Finals squads have a chance to put on a good show. G2, Vitality, and Ninjas in Pajamas are favorites to beat Na'Vi, while Gambit and Heroic will try to get back to their old form.
The BLAST Premier World Final will use a double elimination bracket and all games will be best-of-three series. In contrast to the autumn finals in November, this tournament will not be played in front of a live audience due to the increase in the number of coronavirus cases caused by the Omicron variant.
Here are the results, standings and line-up of the BLAST Premier World Final.
Tournament group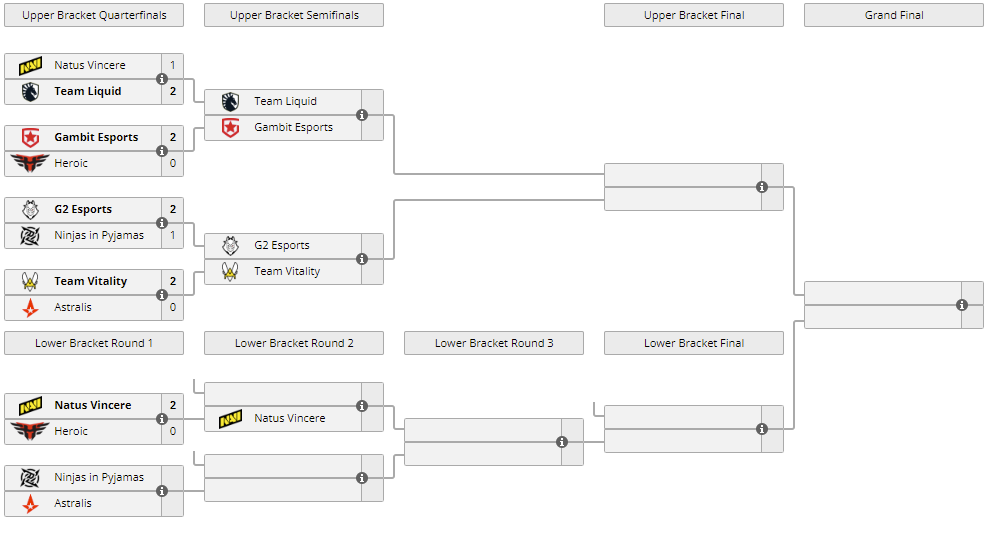 Time schedule
All times are prone to delays.
Tuesday December 14th
9:30 a.m. CT: Liquid 2-1 Na`Vi (Liquid 16-11 Overpass, Na`Vi 16-7 Dust II, Liquid 16-7 Inferno)
12:30 p.m. CT: Gambit 2-0 Heroic (Gambit 16-11 Inferno, Gambit 16-10 Vertigo)
Wednesday December 15th
6:30 a.m. CT: G2 2-1 NiP (NiP 16-11 Nuke, G2 16-11 Dust II, G2 16-14 Inferno)
9:30 p.m. CT: Vitality 2-0 Astralis (Vitality 16-4 Nuke, Vitality 16-6 Mirage)
12.30 p.m. CT: Na`Vi 2-0 Heroic (Na`Vi 16-6 Mirage, Na`Vi 19-15 Nuke)
Thursday December 16
6:30 a.m. CT: NiP vs. Astralis
9:30 p.m. CT: Liquid vs. Gambit
12:30 p.m. CT: G2 vs. vitality
Friday 17th Dec
9:30 a.m. CT: Na`Vi vs. G2 / Vitality losers
12:30 p.m. CT: Second round of the lower bracket, second game
Saturday 18th December
9:30 a.m. CT: final of the top bracket
12:30 p.m. CT: Third round of the lower bracket
Sunday 19th December
7:30 a.m. CT: Final of the lower bracket
11:30 a.m. CT: Grand Finale